Latest Building Updates:
Follow this link to make a donation towards our building fund
 July 2017
May 27th 2016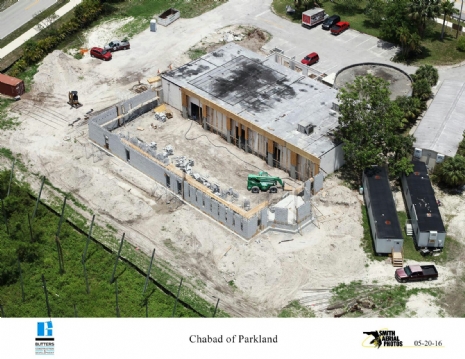 May 13th 2016
May 6th 2o16
April 27th 2016
April 15th 2016
April 8th 2016
February/ March 2016
Excitement is building and construction is coming along!
Over the past few weeks the site has been cleared of all debris and the pad for the new building has been prepared and set. The forms for the new foundations and footing have also been created. Additionally, all the plumbing lines in the old part of the building have been cut.
If you would like to donate towards our building fund, please click here
August 2015
Here we go!
Construction (or shall we say destruction) has begun on the new Chabad of Parkland Center for Jewish Life.
(Chabad's offices have moved temporarily to the side of the building right behind the existing Synagogue Modular)
June 2015
After a lengthy permitting process we are pleased to announce that we have received all the necessary permits from the city of Parkland and Broward County to begin construction on the Michael & Betsy Brauser Chabad of Parkland Center for Jewish Life which also serves as the regional HQ for Chabad in N. Broward and Palm Beach Counties, The Beatrice & Delbert Mintz Hebrew School and The Friendship Circle. This was an arduous process with many challenges and setbacks, mainly as a result of pre-existing issues relating to the property. We are very excited that building will begin within a matter of weeks. We look forward to a very exciting next phase in the construction of our new beautiful Campus.
The Plan approved!
May - December 2014 - The Road/Sidewalk
FLASHBACK!
4/25/2006 Mazel Tov - The Modulars have arrived!!!... Chabad of Parkland's (temporary) Synagogue is now on our property!
Parklanders were captivated as the Synagogue stopped traffic on Loxahatchee Rd. for some 10 minutes as they arrived safely yesterday at 5:00pm. Thank you to the tireless dedication and hard work of Natan Greenstein (our volunteer contractor) and to of all our supporters who made this a reality. G‑d willing, we should be ready to begin conducting services there by the Holiday of Shavuot in 5 weeks time.
2/26/2006 - Electricity installed underground, inspected and approved for modulars and entire new building. Ready to be hooked up.
2/12/2006 - A facelift is given to the exterior of the property as children and parents of the Hebrew School participate ina Mitzvah Day to do gardening, painting and repairs in honor of Tu Bishvat.
2/8/2006 - Entire side and back of Building is painted with attractive beige and off-white colors (Thank you Dov & Yael Kagan)
2/6/2006 - All damaged and fallen and remaining Australian Pines are uprooted and removed from west side of our property. Other fallen trees from around property are removed as well.
1/18/2006 Thanks to Mr. & Mrs. Jeff Schwartz for donating the entire new roof of our Shul that was damaged after the hurricane:
12/10/2005 SITE PLAN APPROVED!
11/1/05 Hurricane Wima causes some setbacks but still moving forward with having the site-plan and building permits approved and the modular Synagogue arriving on site within the next 3-5 months.
5/18/2005 Submitted complete site-plan for approval
3/15/2005 - West side (3500 sq. ft) of the warehouse completely painted, cleaned and decorated for Purim Party!
12/12/2004 Lights installed in front of sign to make sign visable at night (Thank you Asher Sabag)
12/10/2004 New CHABAD OF PARKLAND sign put up displayed on Loxahatchee Rd. Seen coming east and west. (Thank you Natan Greenstein)
11/30/2004 Side of building painted the same off-white as front
11/29/2004 New landscaping took place in front of building adding colour, beauty and proffesionalism to the building. (Thank you East Marsh Nursery)
11/23/2004 - Front of Building painted with attractive beige and off-white colors
11/17/2004 - New venetian blinds installed on windows of Hebrew School Classrooms
In the beginning...
Members of Chabad of Parkland who attended the variance hearing at The Broward County Commission in August 2004. Chabad was approved for the variance without much difficulty, allowing the building/location to be used for a House of Worship.
Mr Ben Gal and Mr Dov Kagan are honored to assist Rabbi Biston in affixing the Mezuzah on the front door of the new building only a few hours after the closing.
Construction (more like destruction): August-October 2004